GAIN BACK YOUR CONFIDENCE
Learn how scalp micropigmentation density treatments can help you
SMP Density treatment is a process used to increase the density of thinning hair. SMP stands for Scalp Micropigmentation, which involves depositing small, hair-like dots of pigment on the scalp to create the appearance of a fuller head of hair. This treatment is often used as a non-surgical alternative to hair transplants or as a way to enhance the results of a hair transplant.
During an SMP Density treatment, a skilled technician will use a specialized needle to deposit the pigment into the scalp at the hair follicle level. The dots of pigment are carefully placed to mimic the natural growth pattern of hair, creating the illusion of thicker hair density. The pigment used is specifically designed to match the patient's hair color and skin tone, ensuring a natural-looking result.
SMP Density treatments typically require multiple sessions, with each session lasting several hours. The number of sessions required depends on the extent of hair loss and the desired level of density. Most patients report little to no discomfort during the treatment, and there is no downtime required afterward.
The results of SMP Density treatments can last for several years, although touch-up sessions may be required to maintain the desired level of density. Overall, SMP Density treatment is a safe and effective way to increase the density of thinning hair without undergoing invasive surgery.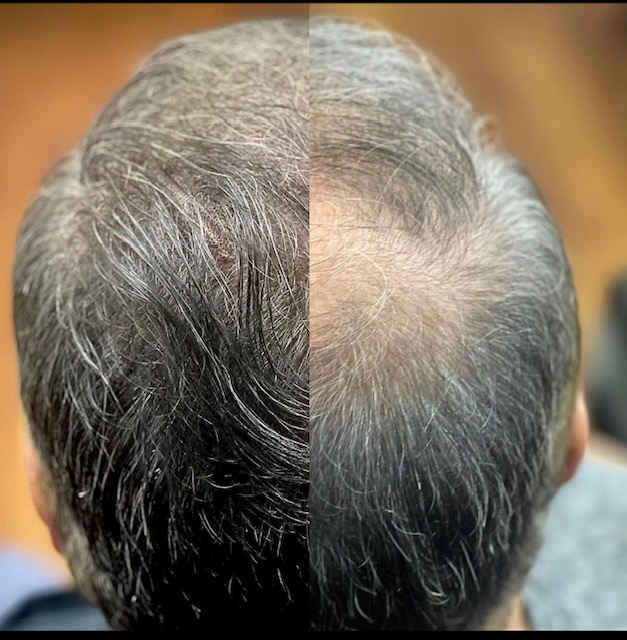 week margin between sessions
Questions & Answers about our scalp micro-pigmentation (SMP) treatment
What is scalp micropigmentation (SMP)?
Scalp micropigmentation is a non-surgical cosmetic procedure that involves the use of tiny needles to deposit pigment into the scalp to create the appearance of a fuller head of hair. SMP can be used to conceal baldness, scars, or thinning hair.
Is SMP suitable for everyone?
SMP is suitable for most people who are experiencing hair loss, but it's best to consult with a licensed SMP practitioner to determine if you're a good candidate. Some factors that may make SMP unsuitable for certain individuals include severe skin conditions, certain medical conditions, and allergies to pigment.
Is SMP painful?
Most people report that SMP is not particularly painful. However, some people may experience discomfort during the procedure, especially in more sensitive areas of the scalp. SMP practitioners can use topical numbing cream to minimize discomfort during the procedure.
How long does SMP last?
SMP can last for several years before requiring touch-ups. The longevity of SMP depends on a variety of factors, such as the quality of the pigment, the skill of the practitioner, and how well the individual cares for their scalp after the procedure.
What is the recovery time for SMP?
There is usually no downtime associated with SMP, and most people are able to resume their normal activities immediately after the procedure. However, it's important to avoid exposing the scalp to direct sunlight, excessive sweating, and other irritants for a few days following the procedure to promote healing.
What is the cost of SMP?
The cost of SMP can vary widely depending on the geographic location, the experience of the practitioner, and the extent of the procedure. On average, SMP can cost anywhere from a few hundred to several thousand dollars.
How do I find a qualified SMP practitioner?
To find a qualified SMP practitioner, it's important to do your research and choose a practitioner who is licensed and experienced in performing the procedure. You can start by reading online reviews and checking the practitioner's qualifications and certifications. It's also a good idea to schedule a consultation with the practitioner to discuss your options and ensure that you feel comfortable with the practitioner's approach.
Can SMP be reversed?
SMP can be removed or corrected, but the process can be time-consuming and costly. It's best to choose a qualified SMP practitioner and carefully consider your options before undergoing the procedure.
What are the risks associated with SMP?
SMP is generally considered safe, but there are some risks associated with the procedure, including infection, allergic reactions, and scarring. These risks can be minimized by choosing a qualified SMP practitioner and following proper aftercare instructions.
Can SMP be used to create the appearance of a buzz cut?
Yes, SMP can be used to create the appearance of a buzz cut or shaved head by depositing pigment at a very short length. This can be a good option for individuals who prefer a low-maintenance hairstyle or who have receding hairlines.
" Thank you for what you do! My husband has been truly happy with his transformation. We are so happy we found you guys. True talent and attention to detail right here guys!!! Don't look anywhere else! HIGHLY, HIGHLY, HIGHLY RECOMMEND @redlands.smp to all those who need scalp micro-pigmentation at its finest! You won't be disappointed! My husband will be going in for a 3rd session. The ambiance and studio is amazing. They make you feel at home and attend to you. I had my children with me and Cisco made sure my children and I were comfortable while we waited for my husband. Thank you again. Will definitely get the word out about you guys!!"

Patra P. - Eastvale, CA
" This experience was great!!!!! I was super self conscious about how thin my hair looked. Scalp Micropigmentation is something that I should have done a long time ago. Cisco was amazing, very informative and he did such a great job. His shop is super clean and the decor is awesome. Definitely very professional!!! Can't wait for my next appointment..."

Vanessa V. - Riverside, CA
" Redlands SMP is an excellent choice for SMP. The quality of Cisco's micro-pigmentation work is incredible. Cisco is not only friendly, but he is a talented artist!
Redlands SMP's studio is spacious and looks amazing. I definitely recommend this place for those thinking about getting SMP. You won't be disappointed."

Laurent N. - Long Beach, CA
" This review is for my mom who doesn't have a yelp. I wish we had taken a before picture, but she was too embarrassed. She still has hair but it is thinning and very blonde right in the front. Cisco did such a good job! She said it didn't hurt and also that he was so nice. I couldn't believe how great it looks. It now looks as though she has dark roots growing. She is actually wanting to go back to do more. We highly recommend Redlands SMP. It seems like something that might be scary, but it really is worth it!"

Emily H. - Redlands, CA
" The office is very comfortable and clean with great decor. Cisco is kind and excellent in his work. He will do his best to give you the look you want. You can watch cool videos while you are having the treatment. I highly recommend SMP Redlands "
Sally B.
This error message is only visible to WordPress admins
Error: Access Token is not valid or has expired. Feed will not update. Helping people become confident again. Microblading & microneedling in Redlands, CA.
407 E Citrus Ave, Redlands, CA 92373
Wed-Sat, 10:00am - 3:00pm